Aluminium Museo Stretcher Bars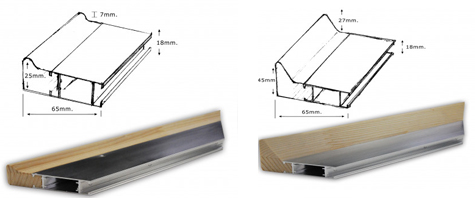 MUSEO ALUMINIUM STRETCHER BARS
Museo aluminium stretcher bars stretchers are a museum grade aluminium wood composite bar 25mm and 45mm deep. These bars can be made up to 6 metres in length, so are ideal for oversize works.
The wooden edge strip is made of laminated pine and allows easy stapling at the back of the canvas. These stretchers have a lip to raise the canvas away from the bars. The aluminium body gives excellent stability, making these bars completely resistant to warping.
The strength of the aluminium also means that fewer cross-bars are needed to support the stretcher frame.
The stretcher frame can be re-tensioned using an Allen key.

All our Museo stretcher bars are cut to order to any size in our North London workshop. Please us the Stretcher Builder to order your bars.