Frame Builder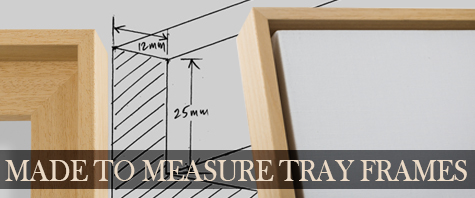 We make up simple and economical tray frames to order in the workshop of our sister company Store Street Framing.
The on-line Frame Builder allows you to choose you frame by telling us what size your stretched canvas is.
The sizes available correspond to the stock sizes of our Branded Quality and Exhibition Quality stretcher bars, and the frames are made to fit the canvas size.
The frame size is calculated to give a 7mm 'shadow gap' between the edge of the canvas and the frame.
To order your custom tray frame, first choose the stretcher bar type and then select the sizes.
You can then select a wood finish - either raw wood, which can be painted, stained or waxed, or one of our custom finishes.
If you can't see what you need here, many other finishes are available and can be quoted for.


Please call us on 020 7836 7521 and select option 3 if you need further information about our frame making services.