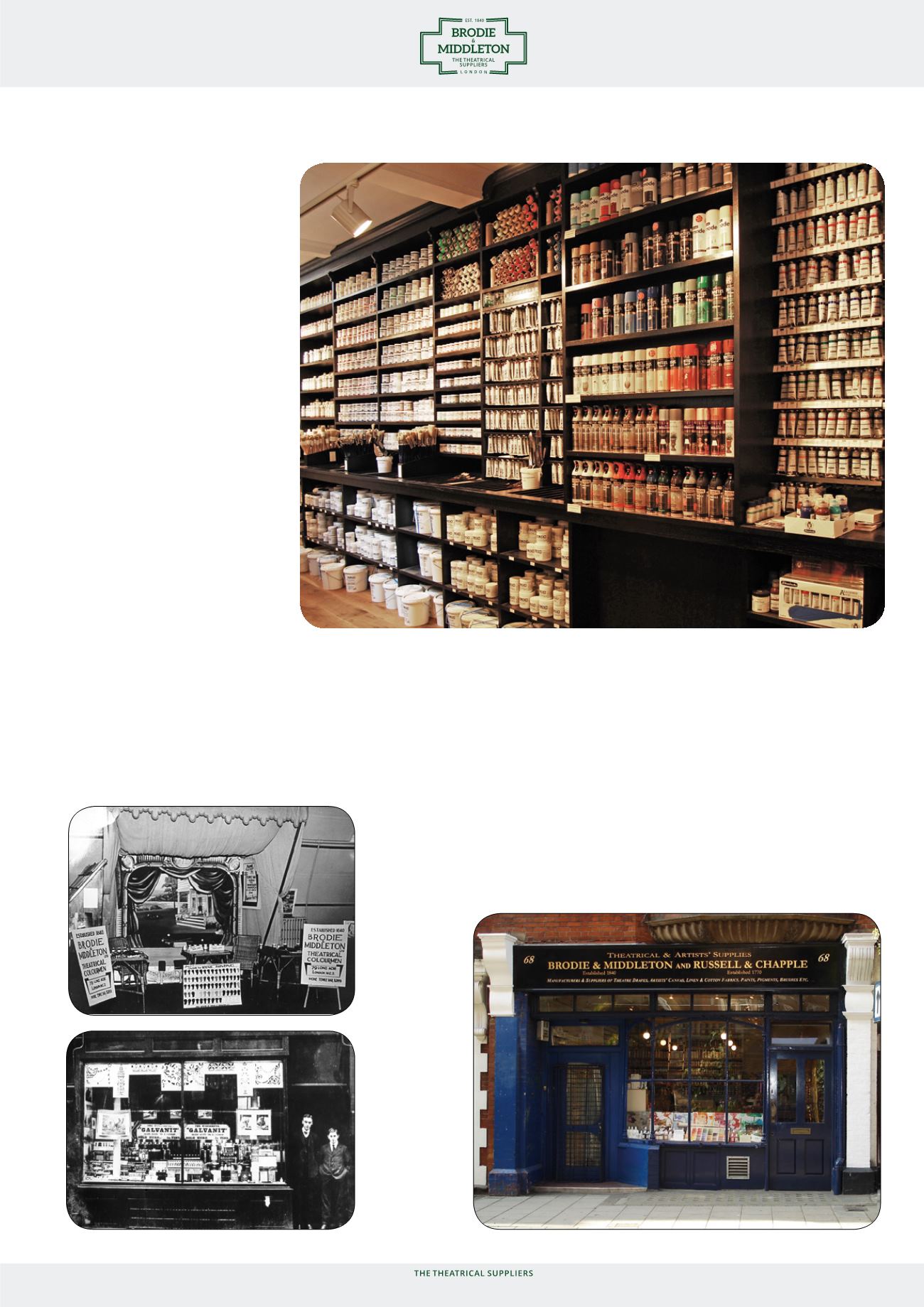 1
Phone: +44 (0) 20 7836 3289 Fax: +44 (0) 7636 8733
By the turn of the twentieth century the company had
expanded its range to include scenic supplies for theatres.
In 1981 the business moved to 68 Drury Lane, sharing
premises from 1999 with another long established Covent
Garden company, the canvas supplier Russell & Chapple.
In 2015 both businesses moved to new premises in
Bloomsbury, on Store Street, from where Brodie &
Middleton continues to supply artists, scenic painters,
film and TV art and wardrobe departments with a unique
range of products, many of which are still made to original
Exterior of the old shop on Drury Lane, Covent Garden.
Interior of the new shop on Store Street.
Brodie and Middleton shop in Long Acre
a shop at 79 Long Acre in
London's Covent Garden, a
colourful area, famed for its
market and theatres. Artists had
long congregated in Covent
Garden, with William Hogarth
and Joshua Reynolds amongst
its famous eighteenth century
Initially Brodie & Middleton
was an 'Artists' Colourmen'
supplying paints of all kinds,
along with brushes. An 1873
trade catalogue describes their
business as supply of "superfine
watercolours, colours and
materials for illuminating,
watercolours, glass painting watercolours, … , brushes
for watercolour painting, earthenware, enamel colours,
etching and copper plate materials, oil colours, oils,
varnishes, etc, brushes used in oil painting etc, easels
HISTORY